Be the Change Youth Training Program
June 26-29, 2016| Washington, DC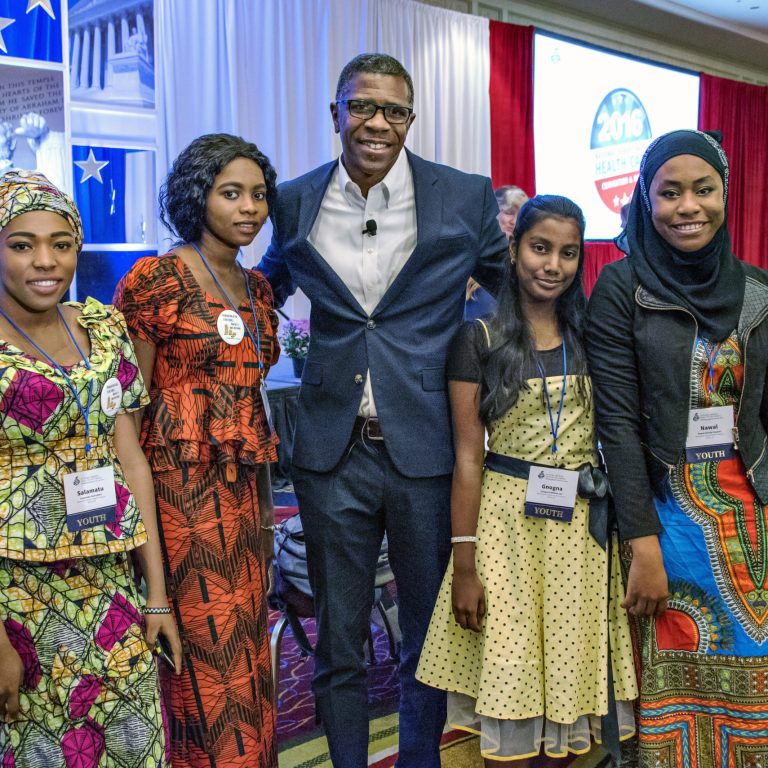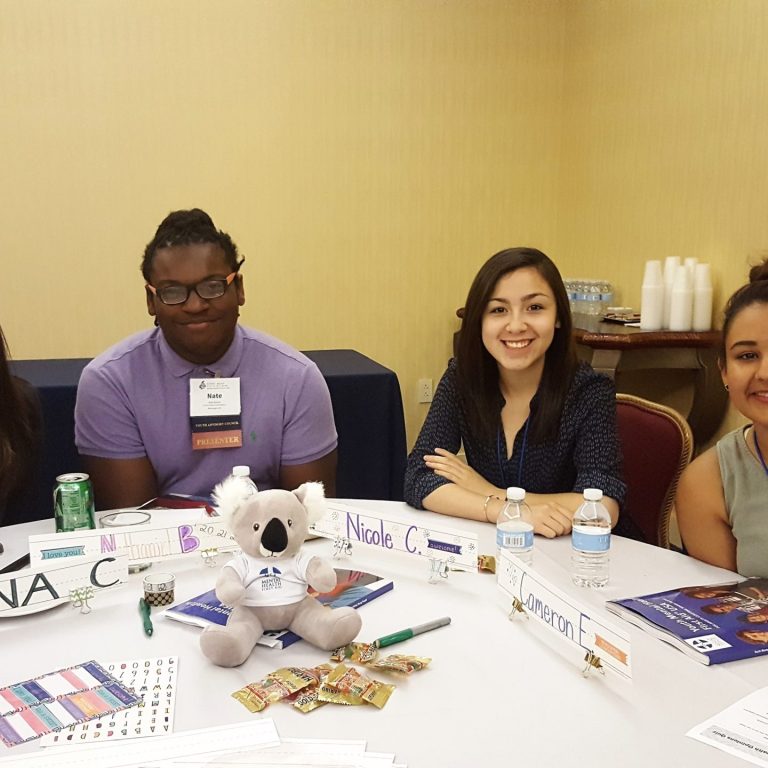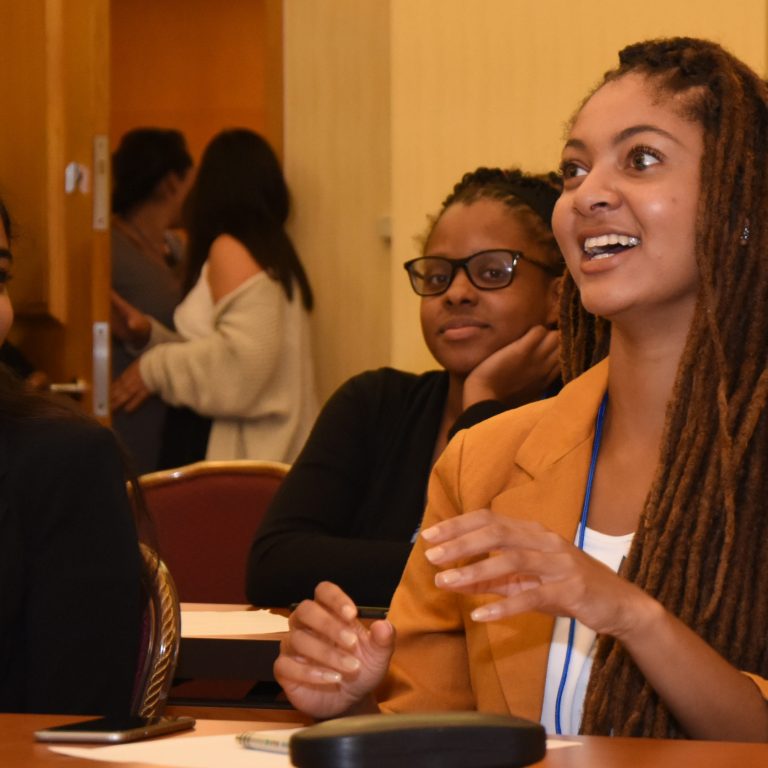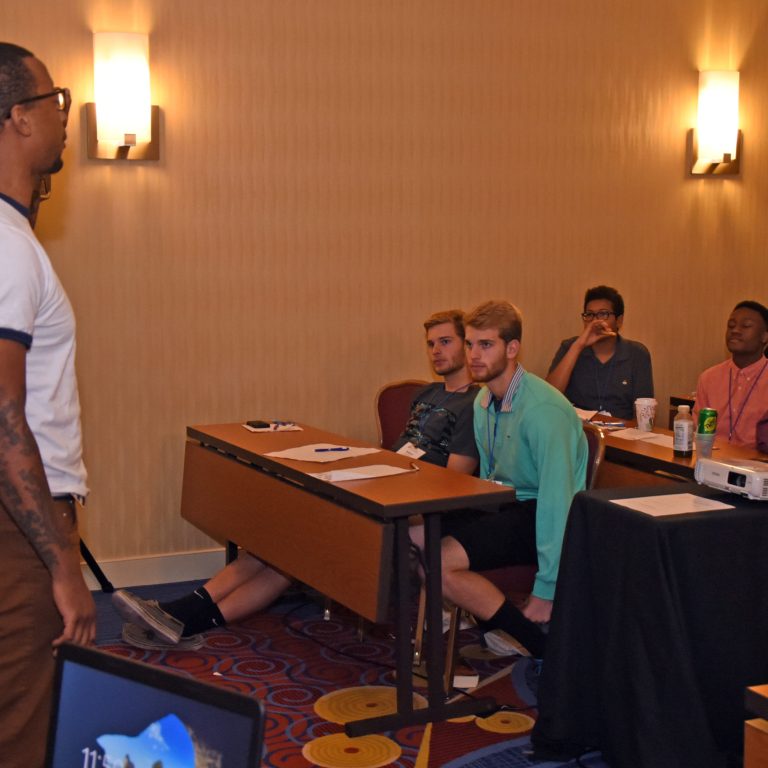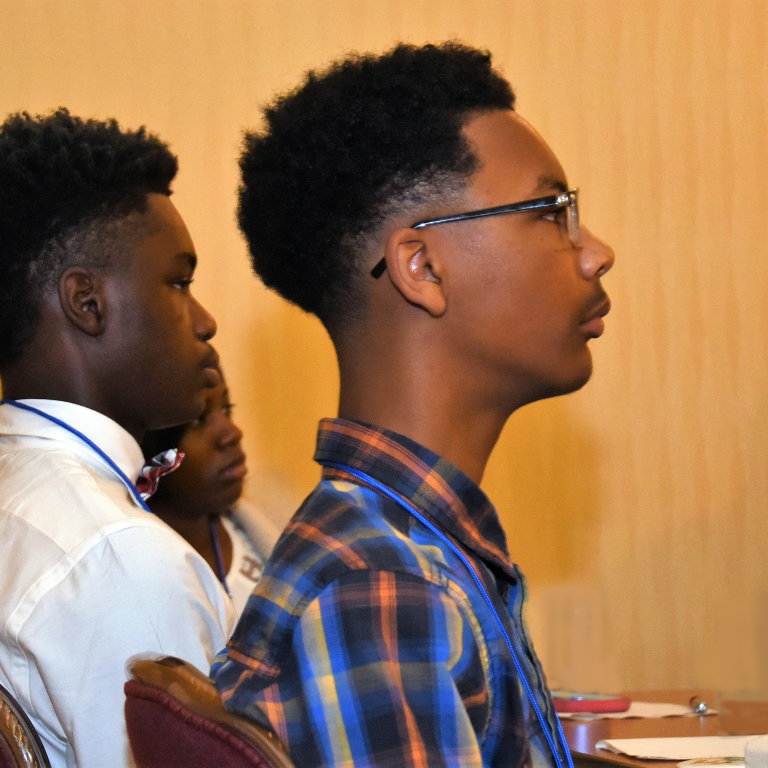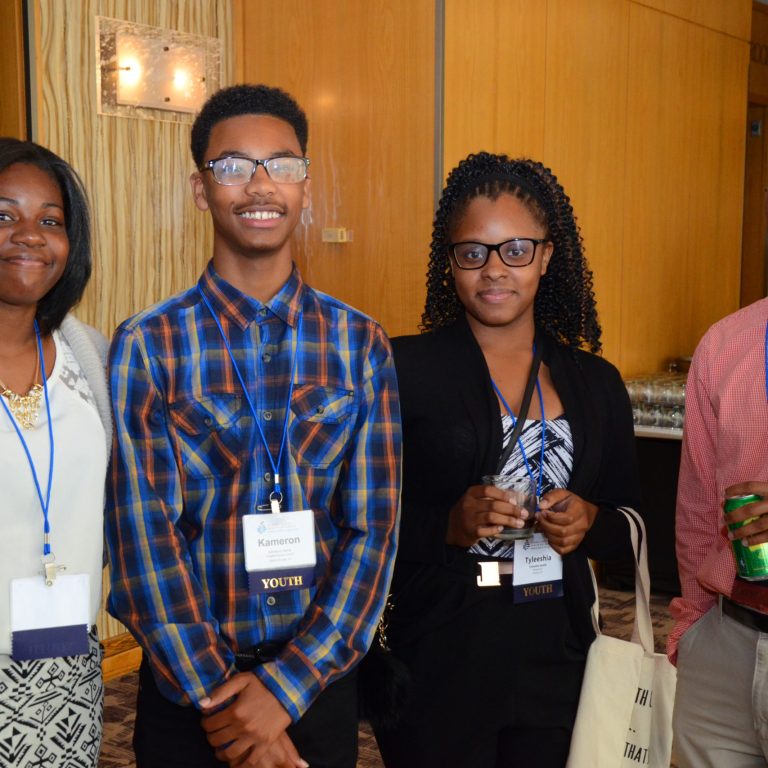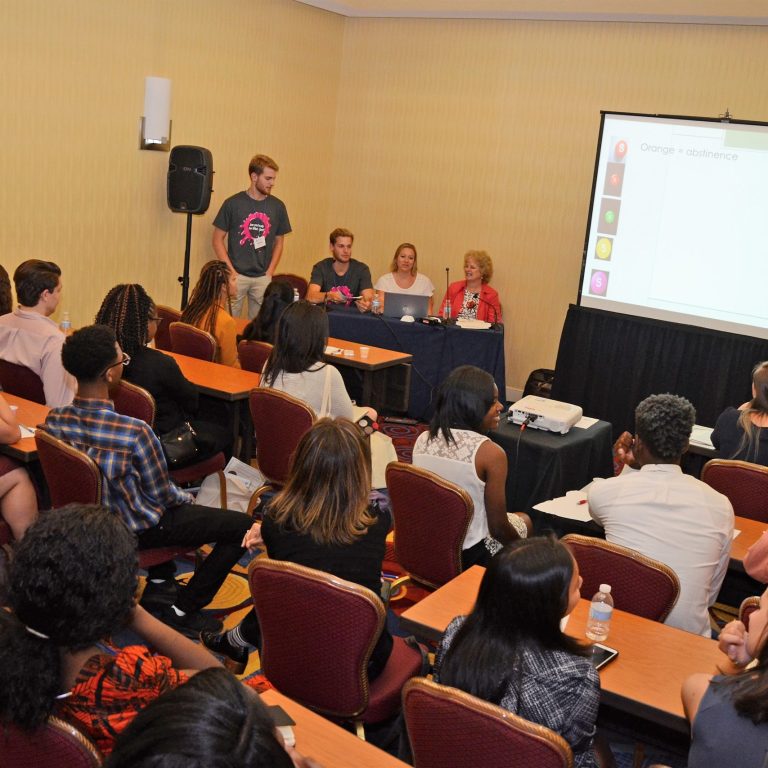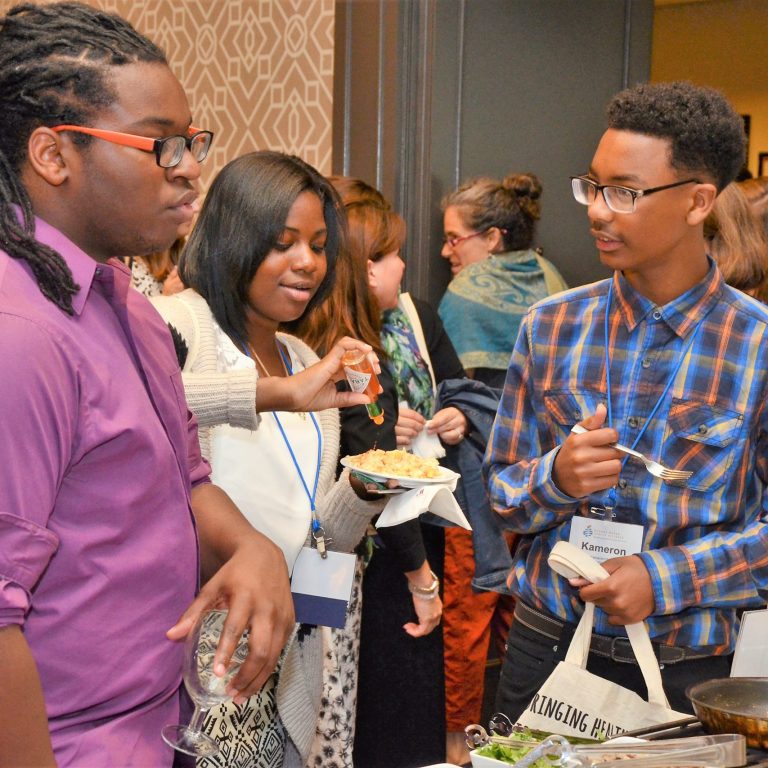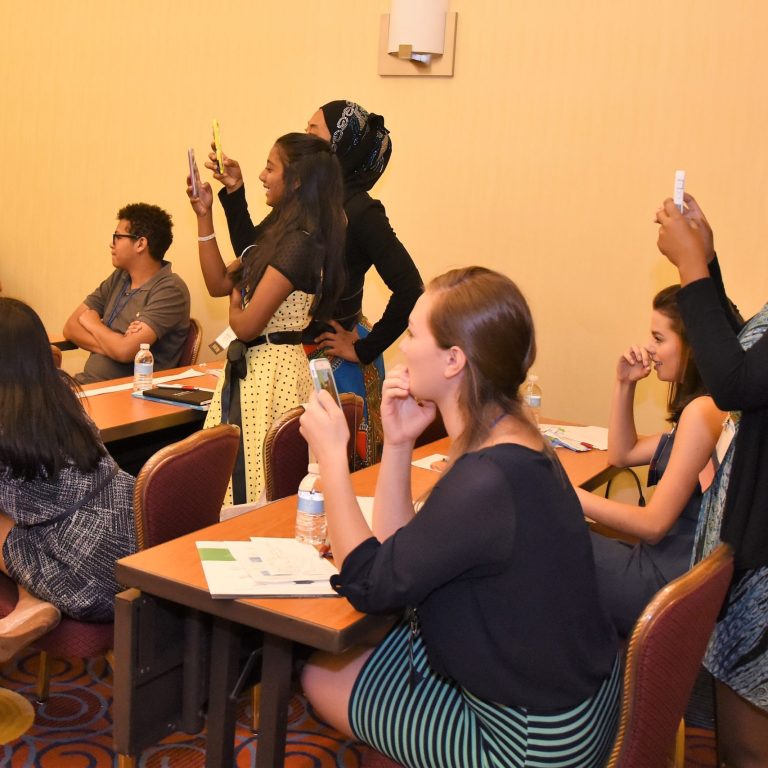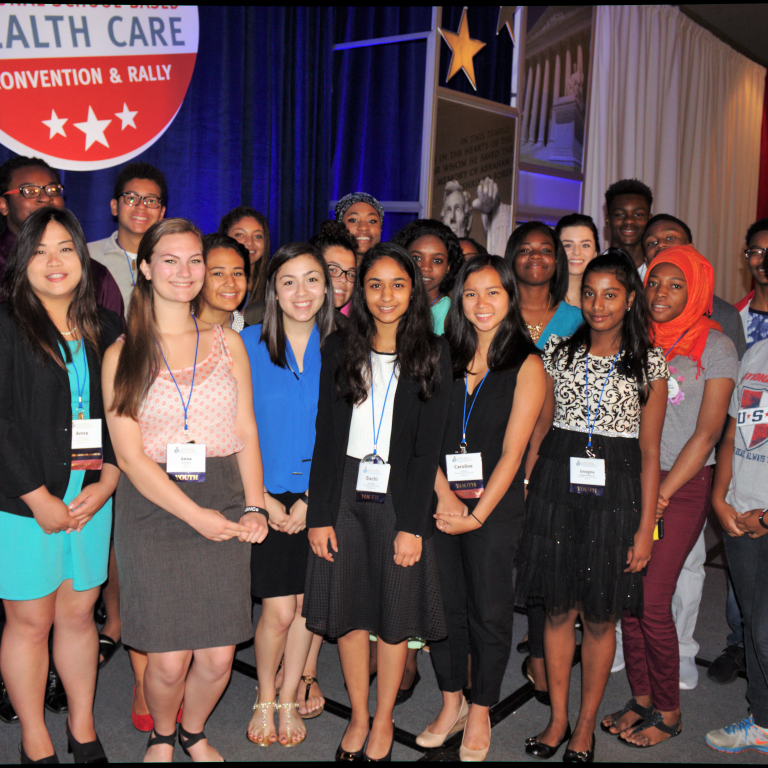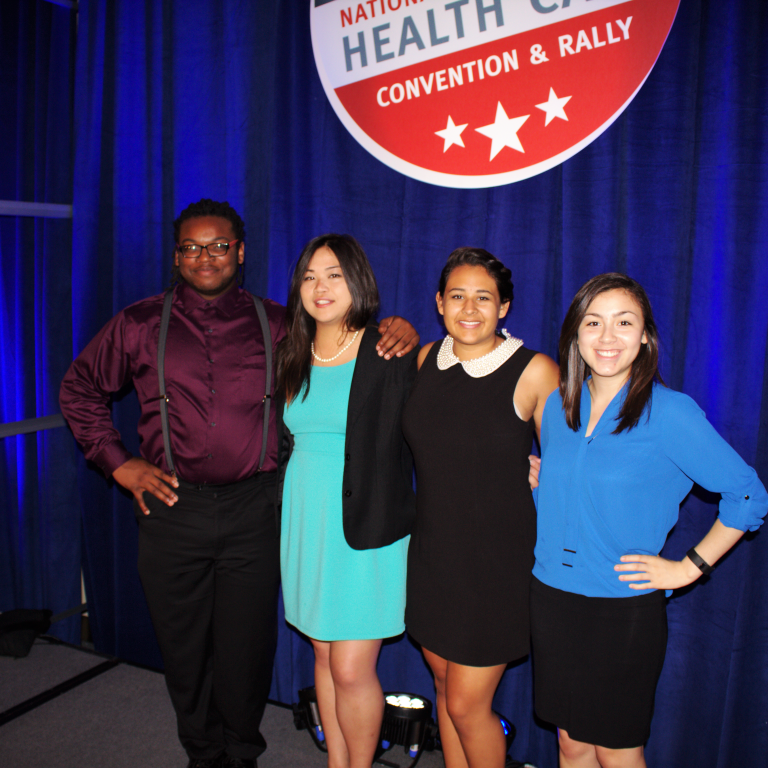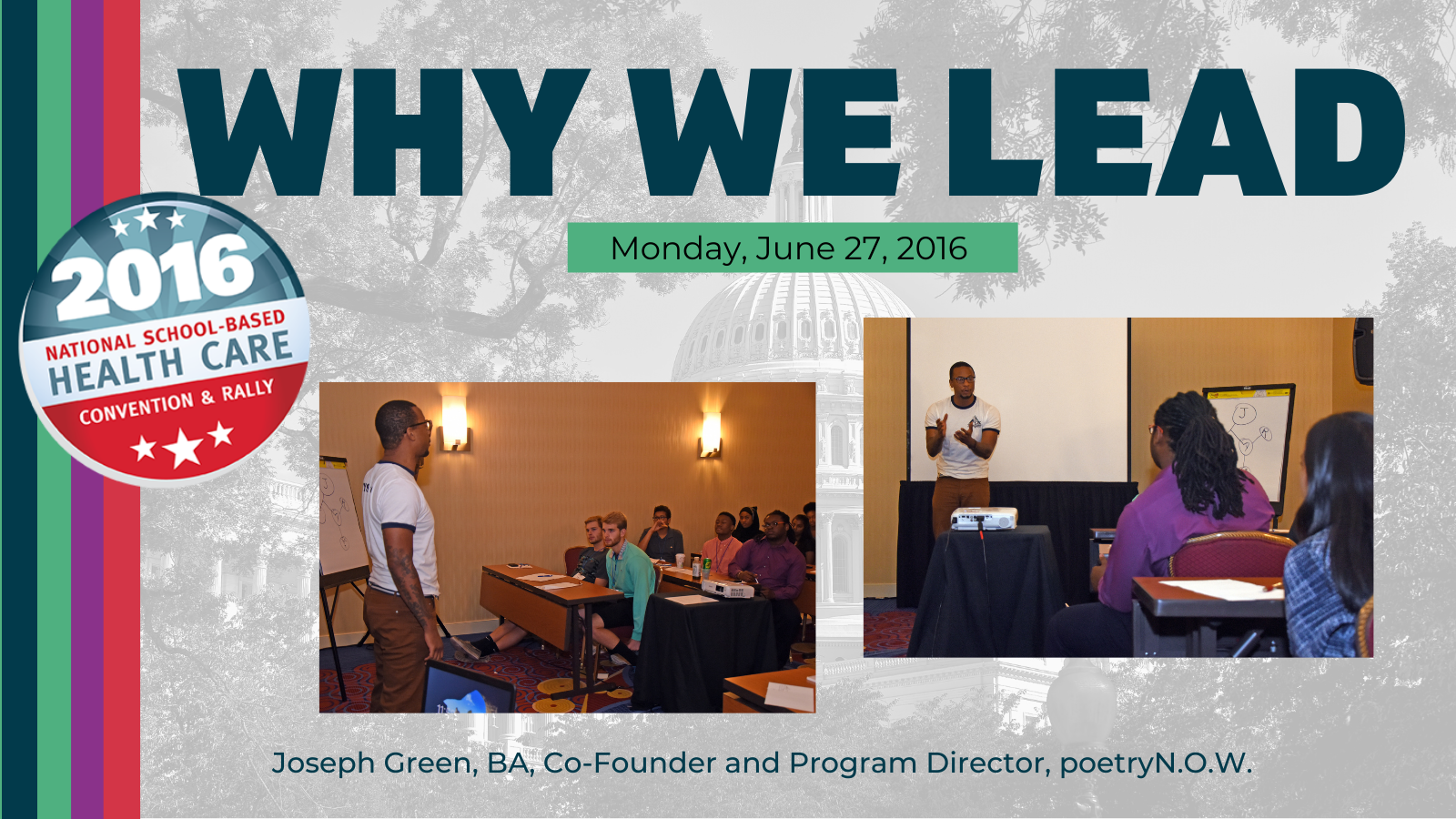 Why We Lead
Joseph Green

Participants were led through a comprehensive examination into the motivations that call us to lead and methods to strengthen resiliency in the face of criticism. The workshop included the following segments: "What Brought Us Here?," "Do You Have Grit?," "Lessons From the Past," and "No Armor Needed." The ultimate goal was to strengthen the participants' bond to why they have chosen to be leaders in this particular field and connect with the power innately found through self-confidence.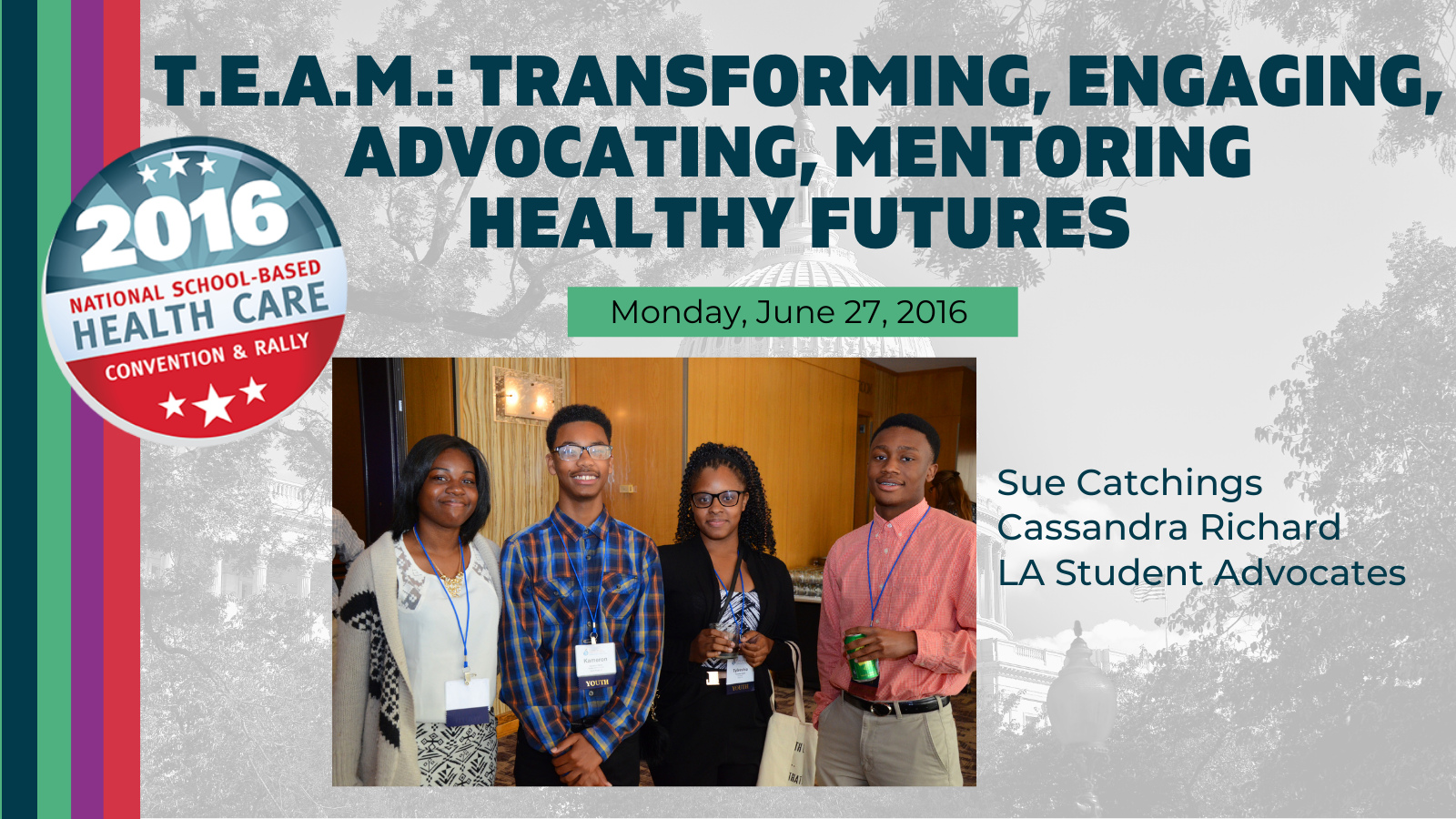 T.E.A.M.: Transforming, Engaging, Advocating, Mentoring Healthy Futures
Sue Catchings, Cassandra Richard, and LA Student Advocates

We learned new definitions of the word T.E.A.M. from ninth and tenth grade students whose lives were being transformed through engaging policy makers at local and state levels. Their Engagement in learning healthy behaviors and Advocacy skills for their age group as well as for their communities were reaching into the schools and health systems' leadership, and their elected local and state officials.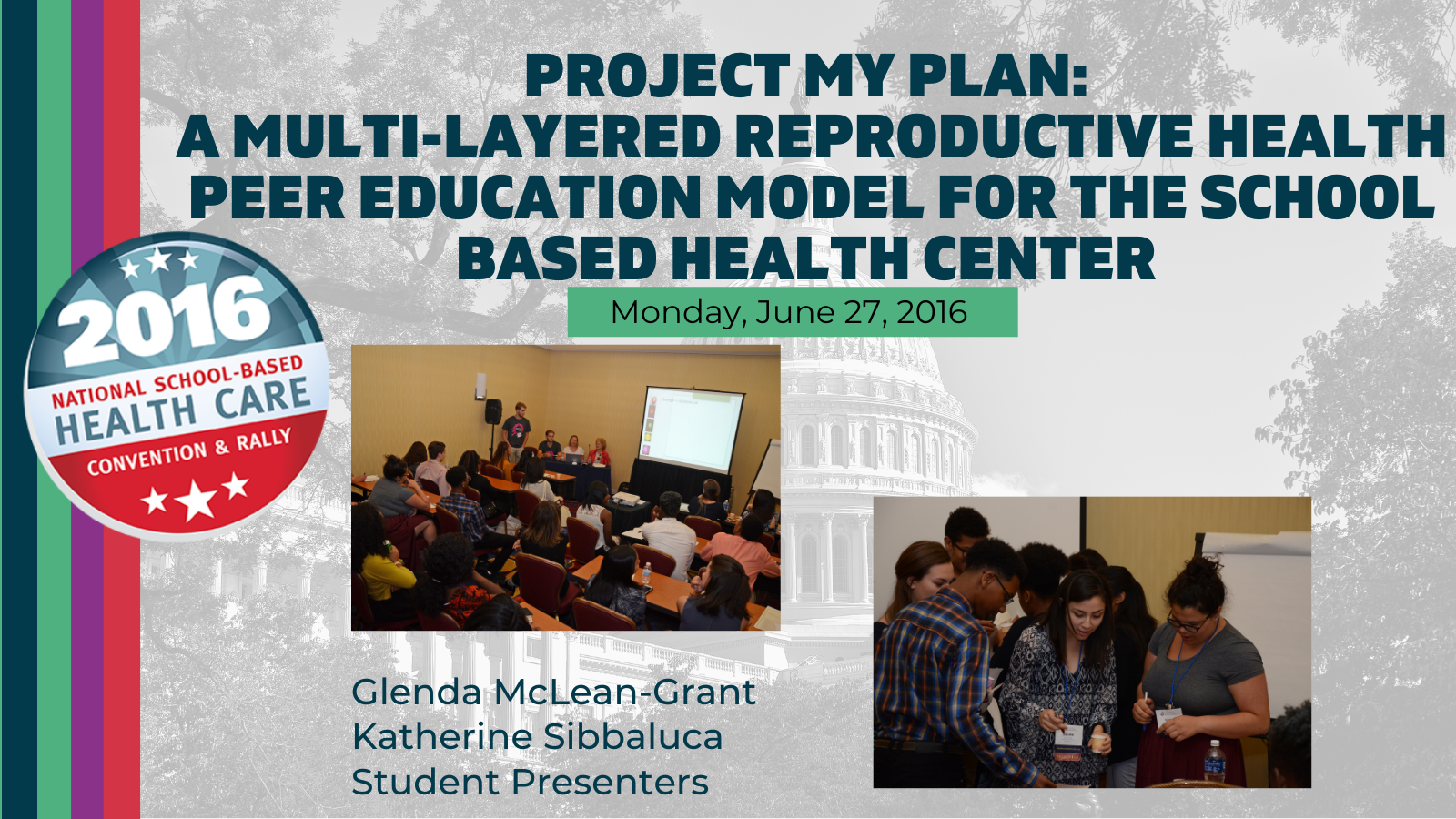 Project MY PLAN: A Multi-Layered Reproductive Health Peer Education Model for the School-Based Health Center
Glenda McLean-Grant, Katherine Sibbaluca, and Student Presenters

Project MY PLAN is a two-tiered peer education model designed and implemented in the public high school setting. Drawing from collaboration between the SBHC and a local university, high school students received life planning training focusing on reproductive health information. University students facilitated peer educators to plan and execute community outreach events. This workshop included project scope, goals, implementations, and an evaluation of program effectiveness. Student participants presented their impressions of program participation.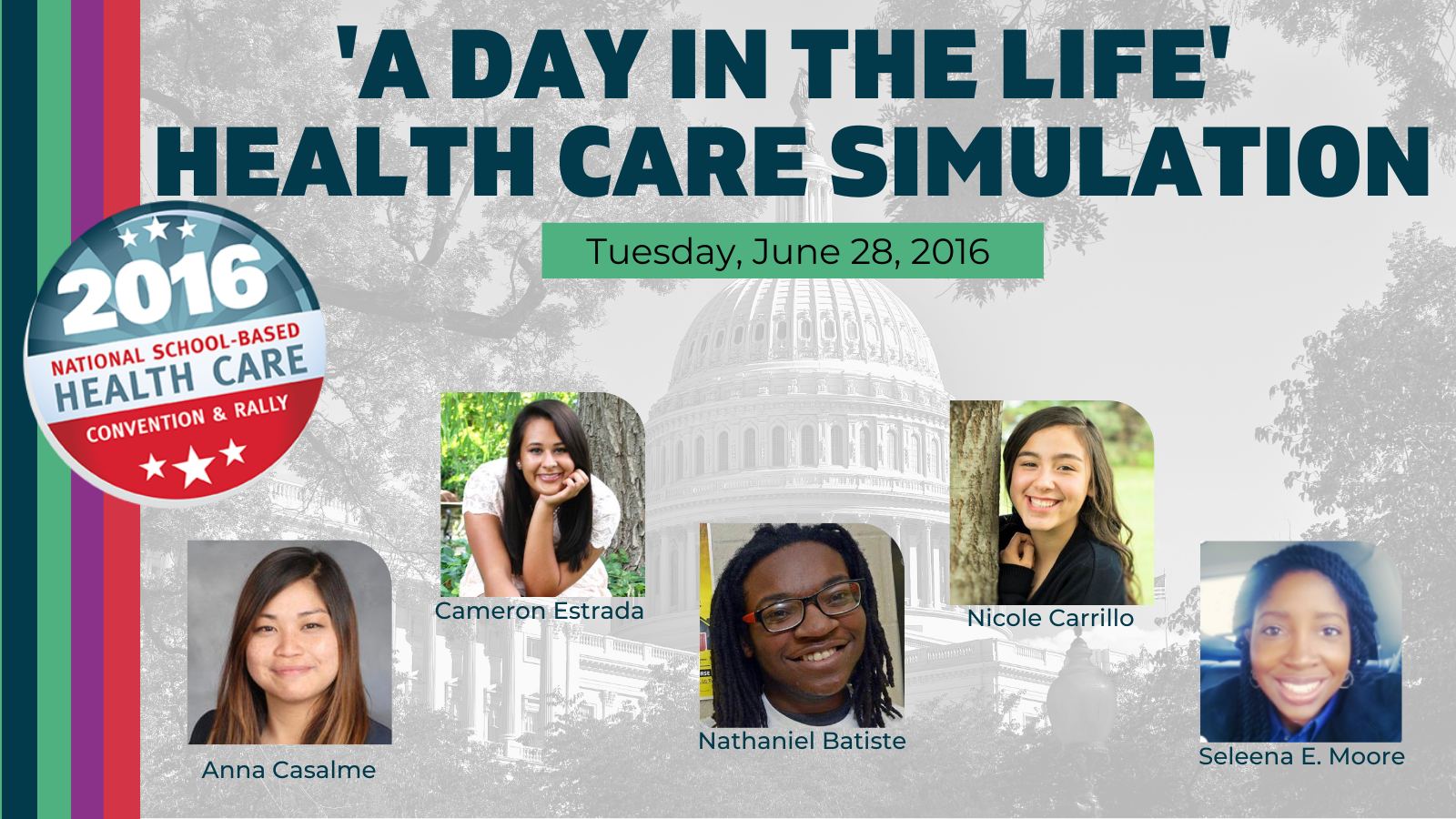 'A Day In the Life' Health Care Simulation
Anna Casalme, Cameron Estrada, Nathaniel Batiste, Nicole Carrillo,
and Seleena E. Moore

This activity educated youth and other SBHC advocates about the components of the current health service systems available to people nationwide. Through role play and interaction, youth better understood the importance and benefits of SBHCs, as well as obtain language to advocate for peers to obtain the health services they need.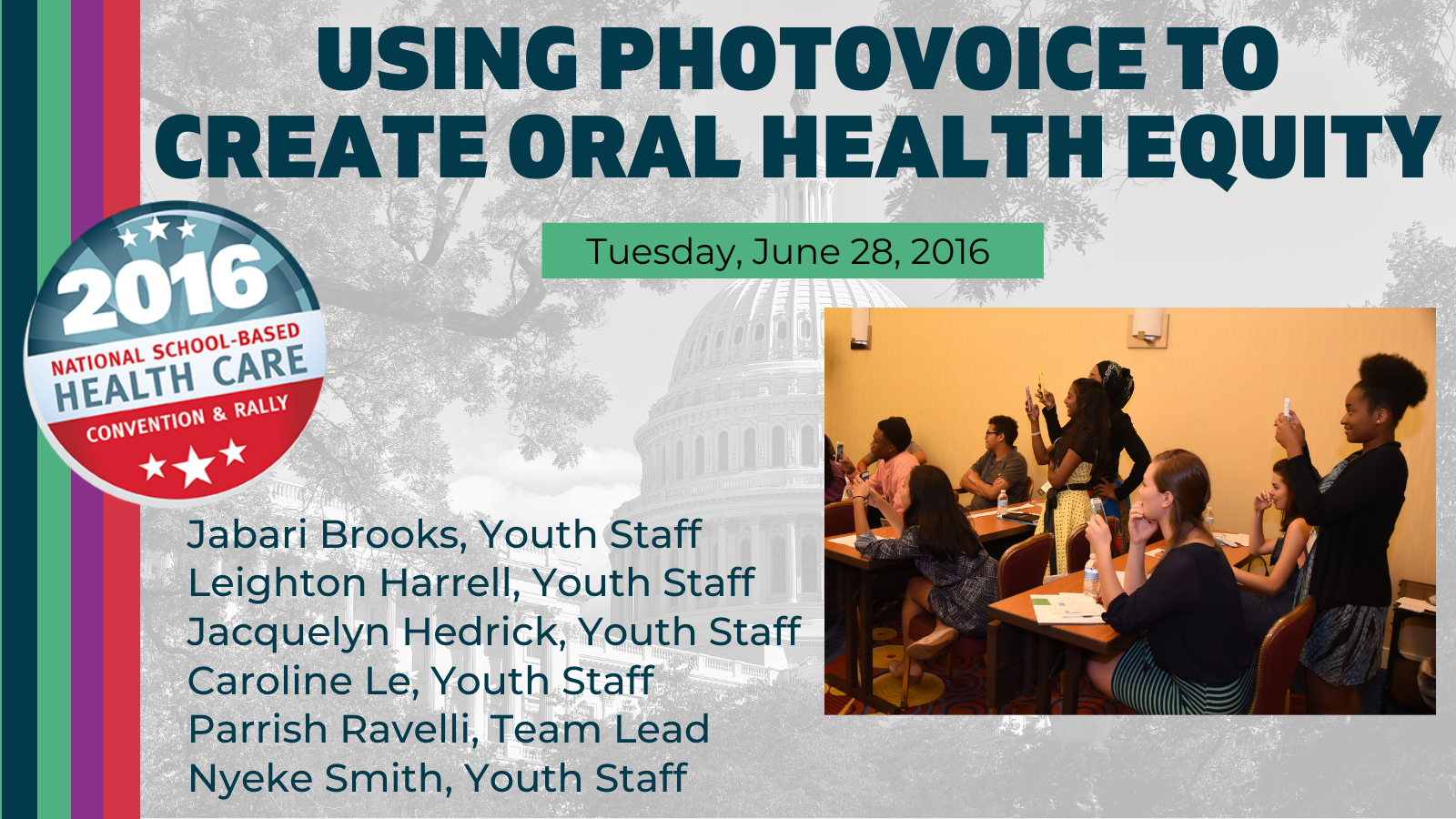 Using PhotoVoice to Create Oral Health Equity 
Jabari Brooks, Leighton Harrell, Jacquelyn Hedrick, Caroline Le, Parrish Ravelli, and Nyeke Smith

Youth in NC worked to capture and lift up the stories of the people suffering from oral health disparities. In this workshop, YES! youth shared those stories and how they were captured across their state. They also provided an opportunity for youth participants to engage in creating a national youth oral health narrative. YES! hopes to engage a national youth network in having a voice in oral health in their communities as a strategy for creating oral health equity.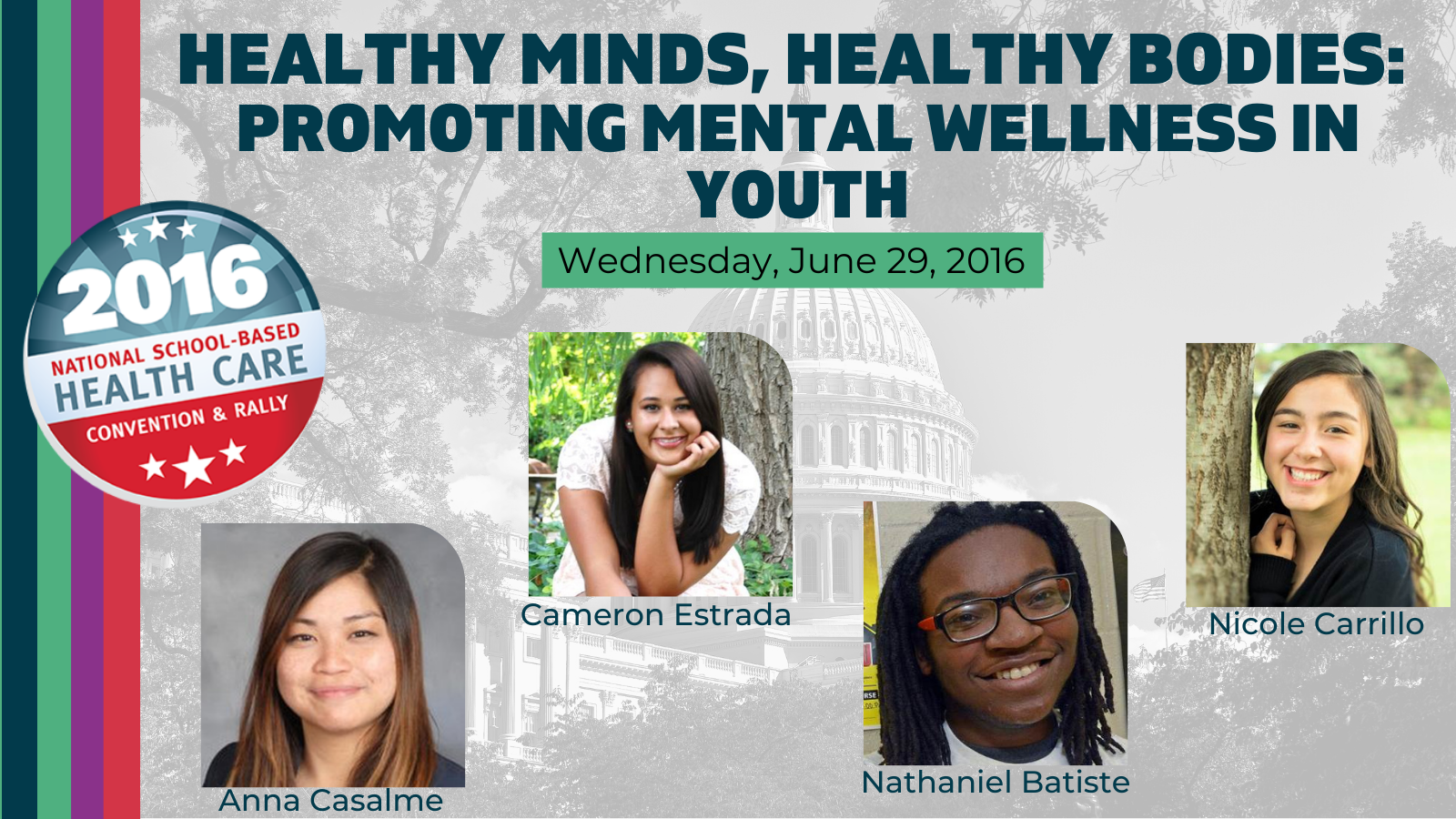 Healthy Minds, Healthy Bodies: Promoting Mental Wellness in Youth
Anna Casalme, Cameron Estrada, Nathaniel Batiste, and Nicole Carrillo

Mental health, especially for youth, goes untouched and unspoken far too often, and the health and academic impacts of this disparity are having a direct effect on kids in school, academic success, their families, and the communities they live in. This workshop by the School-Based Health Alliance's Youth Advisory Council (YAC) provided youth perspectives on mental health, how SBHCs can promote awareness, and how both adolescents and adults can work together to develop and implement programming to effectively improve student health outcomes.