Be the Change Youth Training Program

July 26-29, 2021| Virtual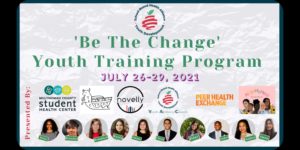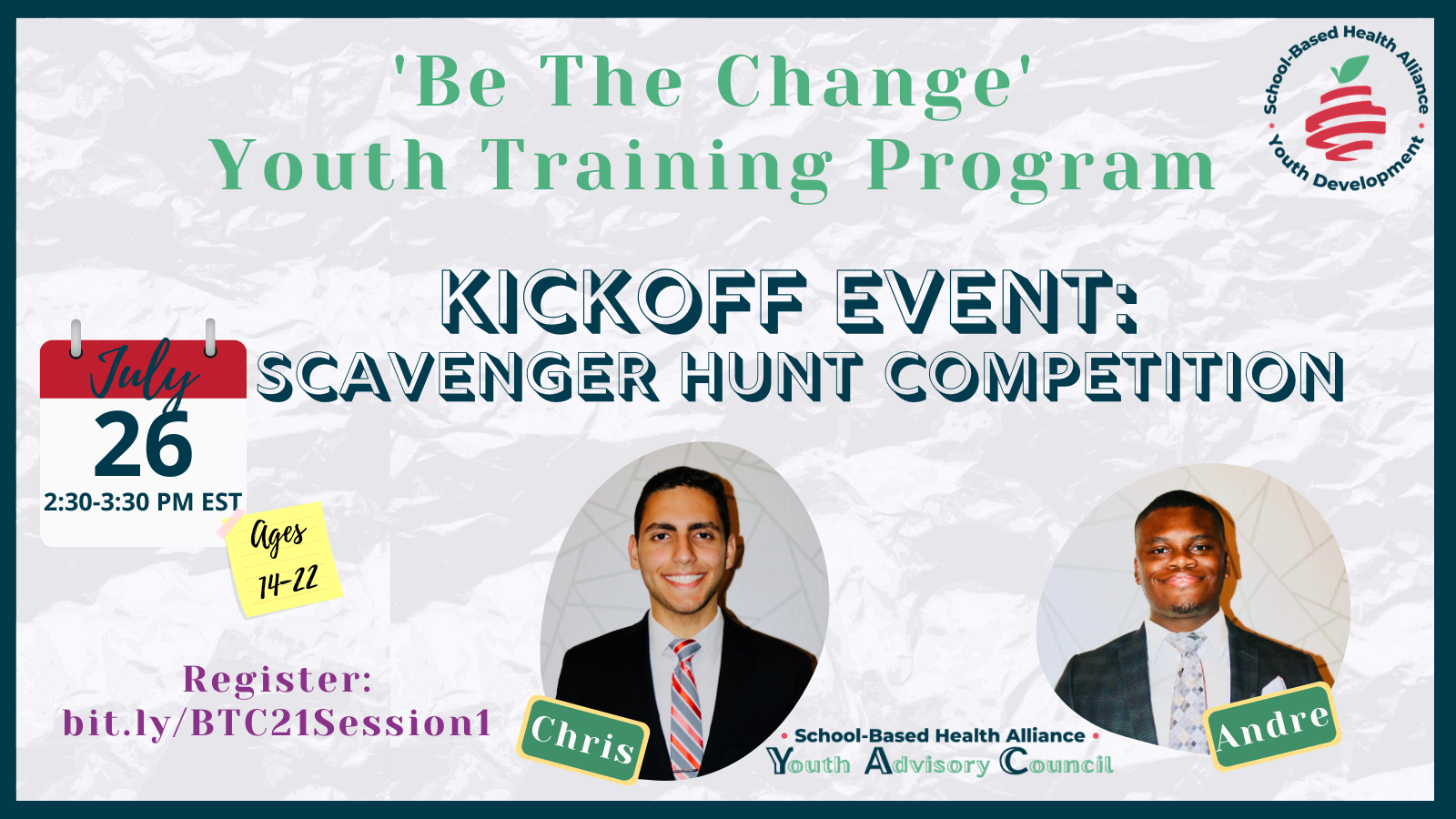 Kickoff Event: Scavenger Hunt Competition
Andre Armour and Chris Oshana

This welcome session, led by Youth Advisory Council members Chris Oshana and Andre Armour included introductions and explanations of the BTC schedule, a fun scavenger hunt activity, and a productive, engaging conversation about the importance of using our voices as a youth.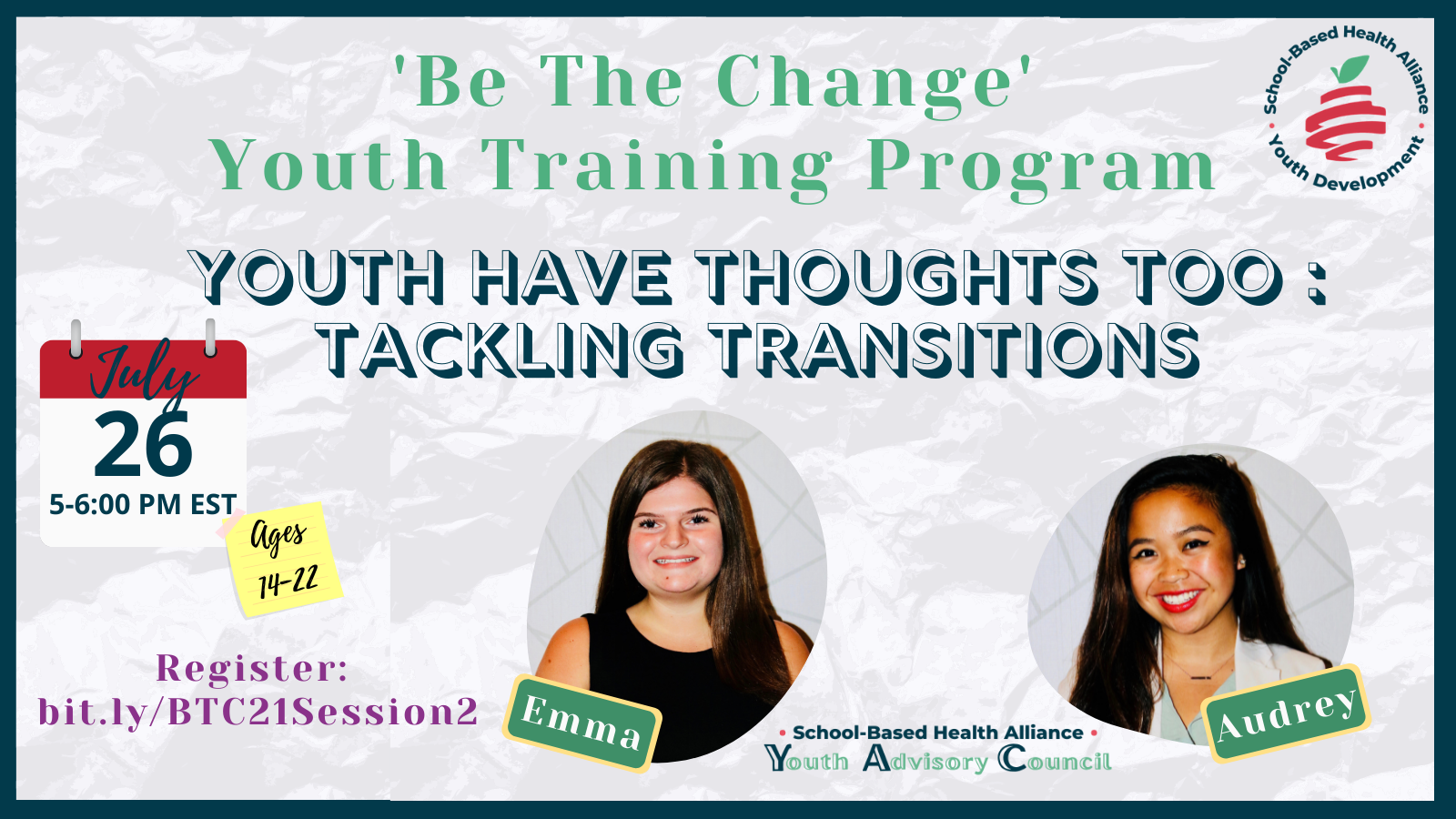 Youth Have Thoughts Too: Tackling Transitions
Emma Bittar and Audrey Gabriel

Youth Have Thoughts Too is an ongoing series led by our Youth Advisory Council members Emma Bittar and Audrey Gabriel, where young people from around the nation gather to discuss the current events in our lives and our shared and unique experiences. Tackling Transitions focused on the many changes we're experiencing that comes with new chapters of our lives, related to easing COVID-19 policies, academia, and personal growth, to name a few.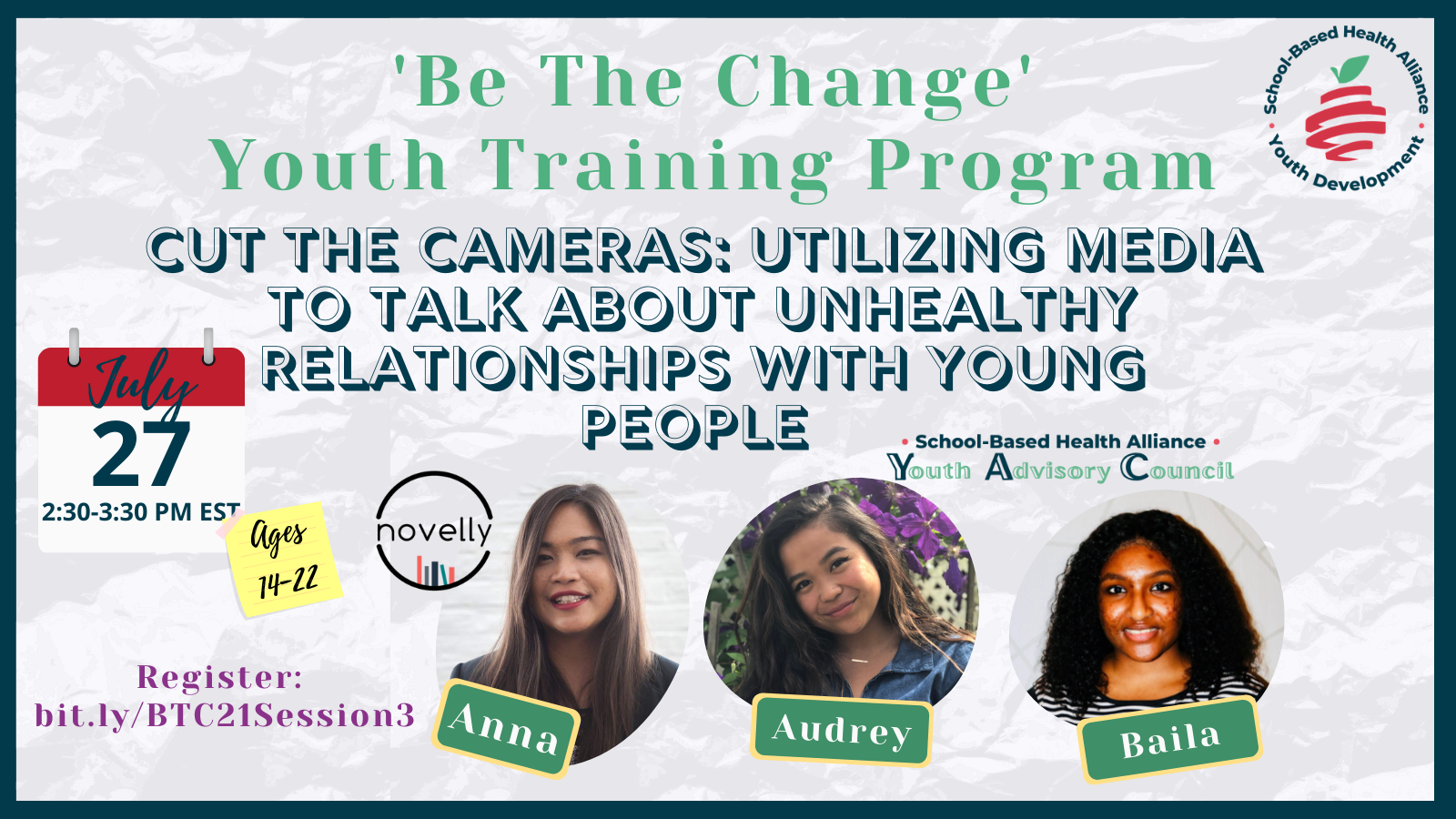 Audrey Gabriel, Baila Salifou, and Anna Casalme

Media has the power to influence how young people view, think, and act in relationships. Join us as we analyze unhealthy relationships and behaviors portrayed in popular media, deconstruct patterns of abuse, and discuss how to utilize media portrayals when talking with young people in a health center setting. This meeting was facilitated by SBHA Youth Advisory Council Members Audrey Gabriel and Baila Salifou, and Anna Casalme, Founder of Novelly. Novelly is an organization that utilizes the power of stories to create courageous conversations on taboo topics.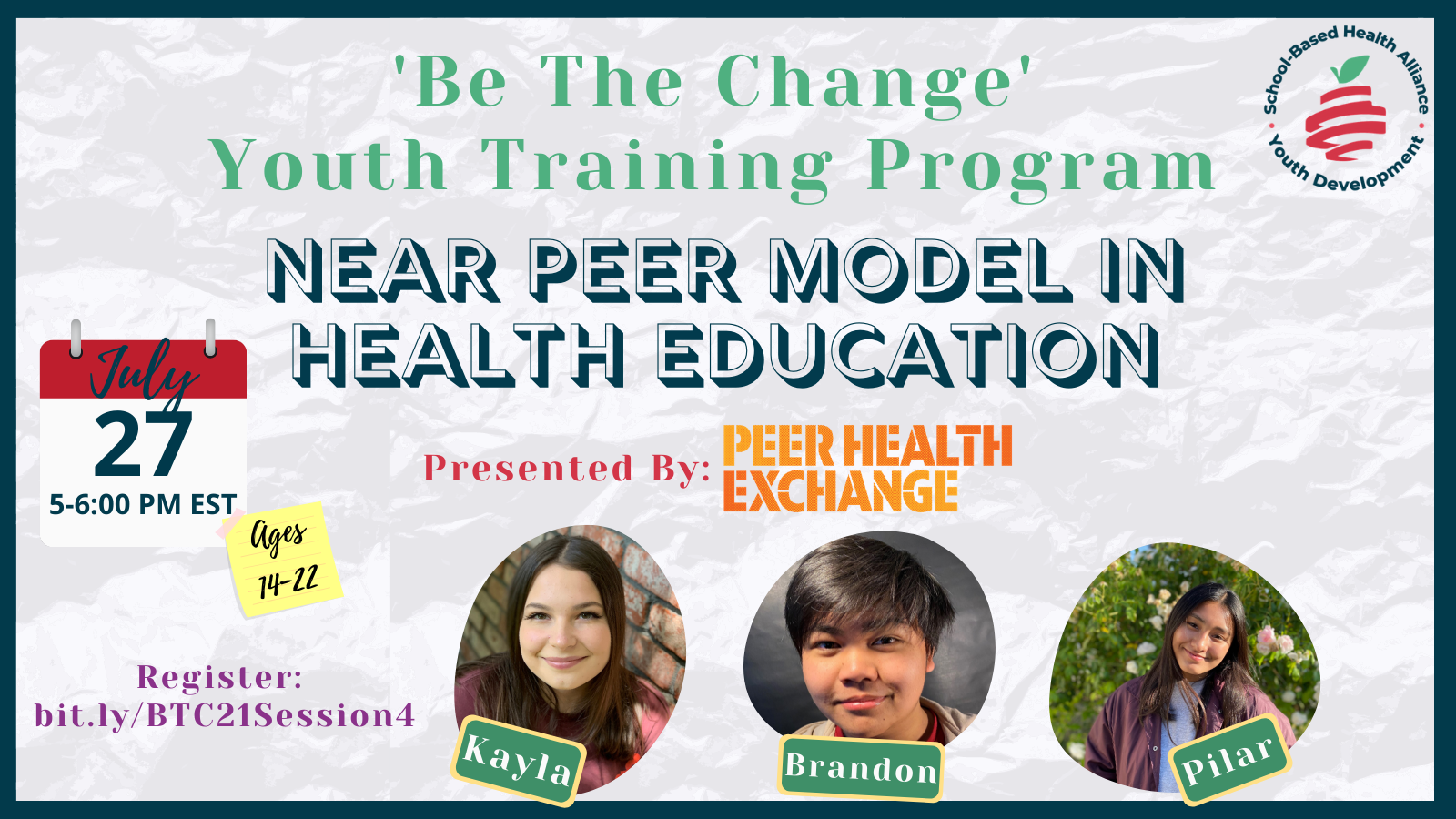 Brandyn Nguyen, Kayla Birdsell, and Pilar Cortes-Vega

Peer Health Exchange's Near Peer Model, where local college students educate youth on various health topics, makes Peer Health Exchange different from other health programs. Peer Health Exchange's Youth Advisory Board is the next step in the Near Peer Model. Youth use their voices to advocate for health education and equity by guiding the organization's direction. Participants in this workshop heard from Peer Health Exchange's Youth Advisory Board Members Brandyn Nguyen, Kayla Birdsell, and Pilar Cortes-Vega on how to use your voice for advocacy.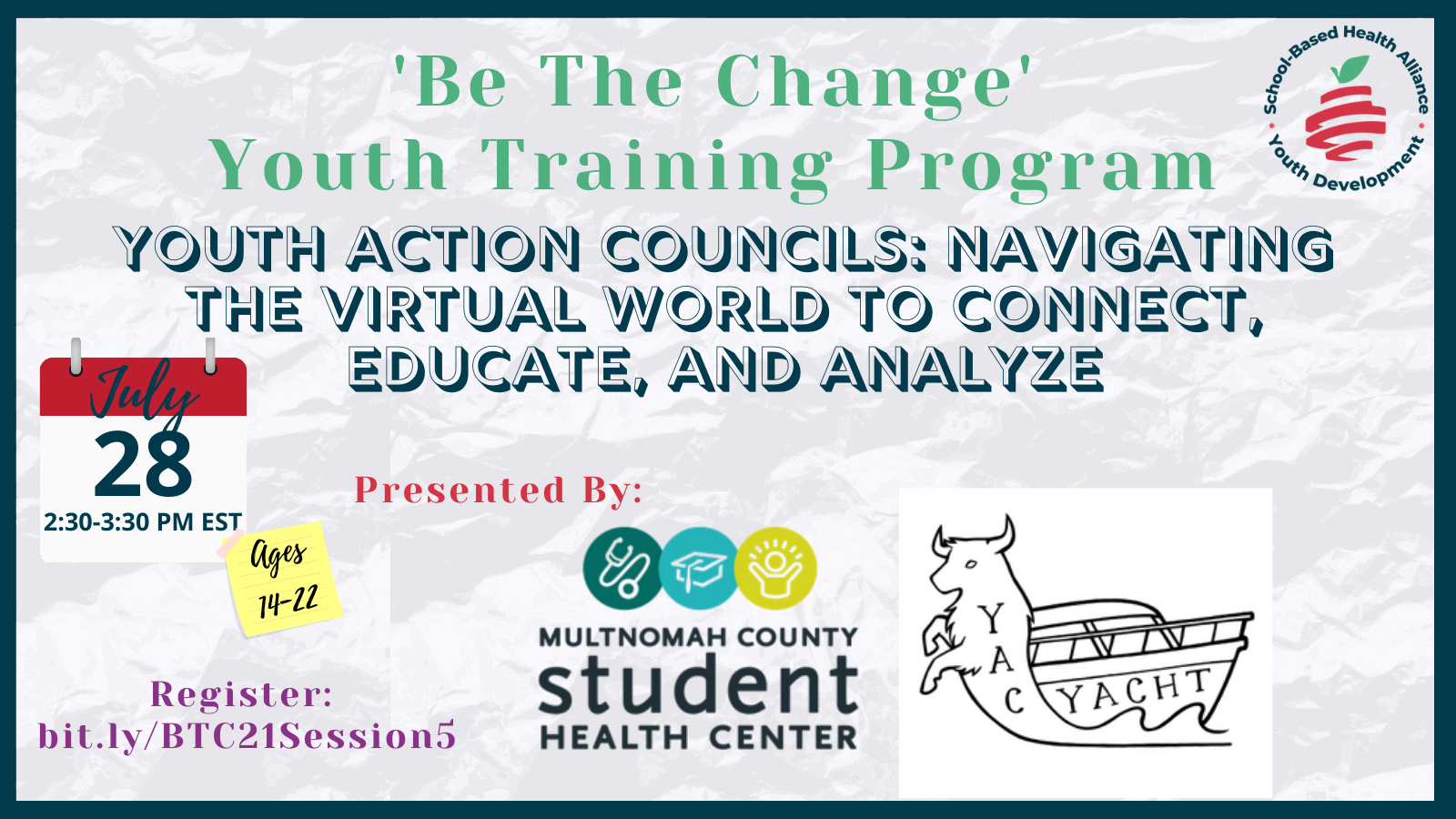 Multnomah Action Council

During this session, the Youth Action Councils (YACs) of Multnomah County discussed how they had a successful year of connecting virtually with youth. They shared what worked and what didn't. The YACs were able to complete campaigns, YAC Talks, Youth Participatory Action Research (YPAR), retreats, and workshops from the comfort of their homes while still impacting their peers, schools, and communities.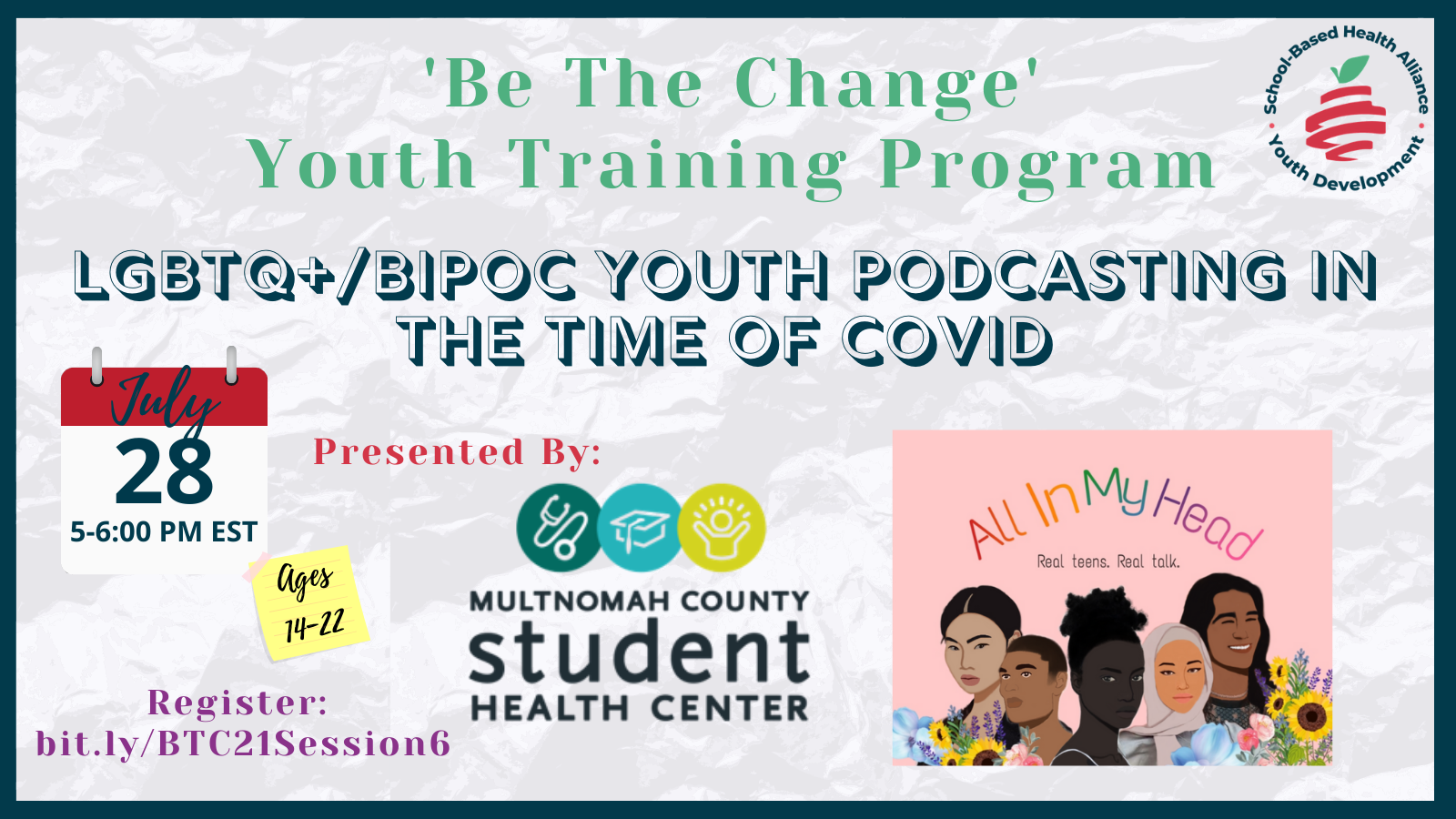 Multnomah Action Council

At the beginning of the 20-21 school year, a couple of teens, in partnership with Multnomah County with a grant from the Association of Oregon Community Mental Health Programs, developed and created a podcast that focused on mental health issues among the LGBTQ+/BIPOC communities. The team shared how they came up with episode themes, gear and software used, what worked, and what they would do differently.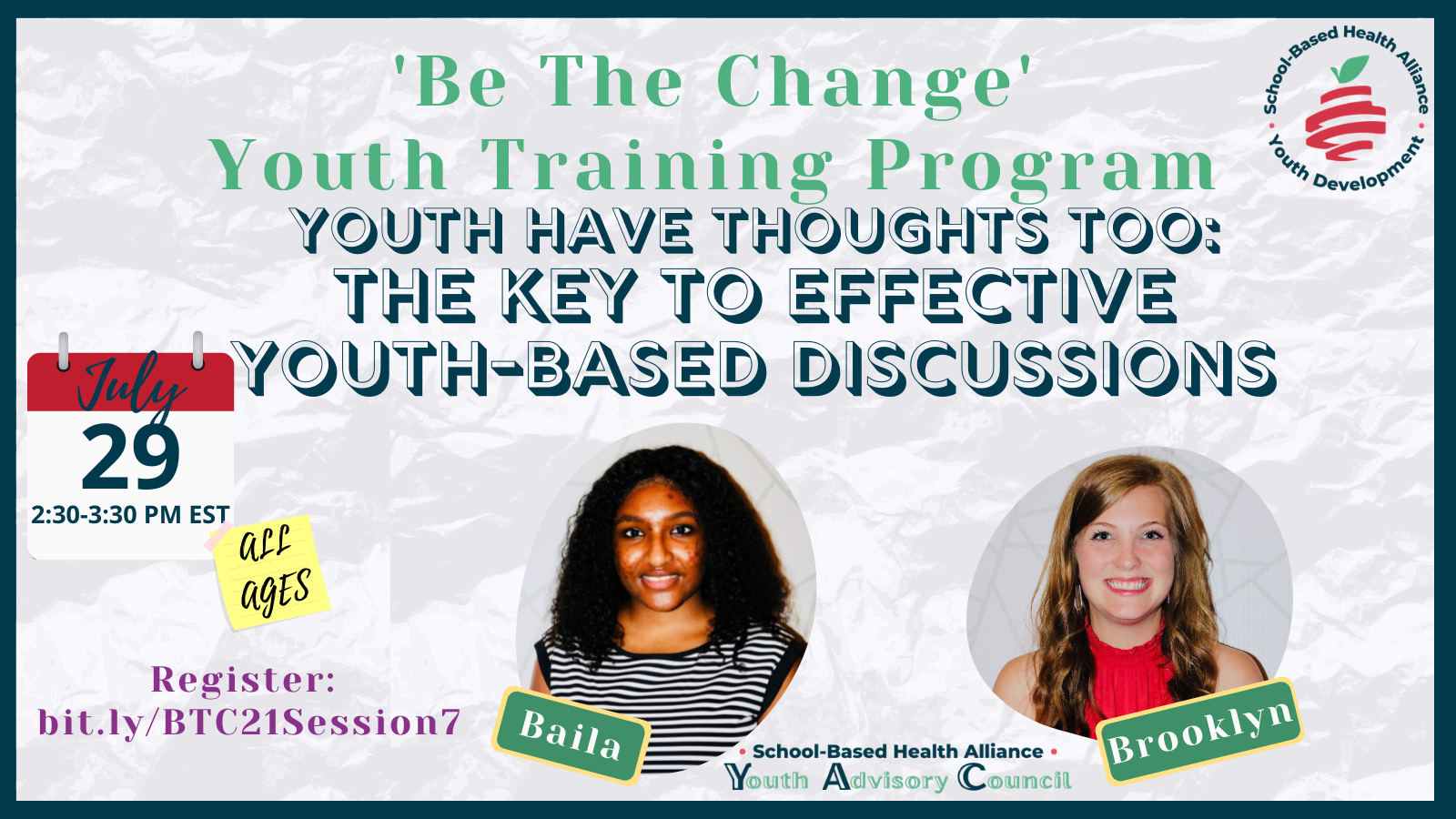 Baila Salifou and Brooklyn Waller

In May of 2020, SBHA's Youth Advisory Council (YAC) started a youth listening and learning series entitled "Youth Have Thoughts Too" (YHTT). Since then, they have hosted five sessions focused on various topics, including COVID-19, the Black Lives Matter movement, mental health, and vaccinations. Youth-based and youth-led discussions are a powerful way to connect with adolescents, dissect pressing issues within young populations, and give youth a voice. In this webinar, we identified the most effective ways to plan and facilitate youth-based discussions in a way that gives your youth a platform.