Compilation by Chris Oshana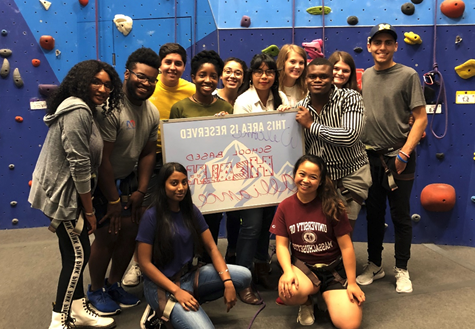 As current and previous members of the School-Based Health Alliance (SBHA) Youth Advisory Council (YAC), we've all gained so much from being a part of this amazing team. The following blog post will focus on highlighting our current and former YAC members, their lived experiences as a part of the YAC, and why they feel you should apply!
Emma, a former YAC member and current sophomore at Tufts University majoring in Environmental Studies and minoring in Latin American Studies, said the following about her experiences: "I joined YAC because I realized how incredible SBHCs were for my local community, and I wanted to be able to participate and have an impact on a larger level. The YAC helped me gain invaluable skills and knowledge that are transferable to most, if not all, fields. But for my area of study, YAC gave me a strong community health background that I can bring to conversations on the intersection of the environment and health."
Similarly, Fathima, another former YAC member and SBHA Intern, said: "I work in healthcare, and one thing being a part of the YAC helped me understand was how social determinants of health play a vital role in health outcomes for different populations. I also wanted to tackle health issues affecting youth today and learn more about the field of public health. You should join YAC because it gives you an opportunity to be a leader, meet like-minded peers from across the states, shine light on important health topics, and grow in knowledge."
The youth who've left the YAC in recent years all say similarly positive things. "The Council exposed me to professional opportunities that allowed me to grow in public speaking and challenged me to expand my perspective as it relates to real-world issues in our country", said Andre, a former YAC member, now Program Manager for Greening Youth Foundation and Board Chair for Family Wellness Outreach Center of Georgia. He continued on to say, "if a young person takes the council seriously, it can truly transform their life". After reflecting on their time in the YAC, all our former members were self-aware of their growth and the lessons they learned during their time on the Council.
However, it's not only former members of the council who speak highly of their experiences– current members agree! Audrey, a current YAC member "joined the Youth Advisory Council because [they] had been a part of [their] high school's YAC for many years." They go on to say, "after some encouragement, I applied to the Council and I'm so grateful for the experience and the connections that I have made!" Chris, another current YAC member noted, "My time on the YAC has taught me so much about myself. I've grown personally and professionally, and feel more equipped to tackle challenges I face in other aspects of my life."
The YAC has also provided other opportunities for our members. YAC member Brooklyn was recently accepted into nursing school, and believes that it "would [not] have been possible without being on the Council". In speaking about her experiences on the YAC, she said, "By being on the Council, I am able to see every working part of healthcare, which has allowed me to narrow down what I want to do. I think that everyone should be a part of something, at least once in their life, that is bigger than themselves! I believe that the Youth Advisory Council can be that for everyone, because as a member of the Council you will be challenged, encouraged, and have a wide range of amazing opportunities." Furthermore, Baila, a current YAC member and SBHA Intern, became involved with the Yale Play2Prevent Lab to develop a video game that prevents opioid misuse in youth. She found this opportunity through her involvement with the Youth Advisory Council. Speaking about Play2Prevent, she said: "This work is important to me because I have always been passionate about substance use and this opportunity allowed me to put that passion into action while sharing my voice."
YAC members both past and present have learned, grown, and benefitted immensely from their experiences while serving. If you feel like the Youth Advisory Council is a good fit for you (and vice versa), we encourage you to apply today! For more information or to apply, visit us here.