'Be the Change' Youth Training Program

June 26-28, 2023, Washington, DC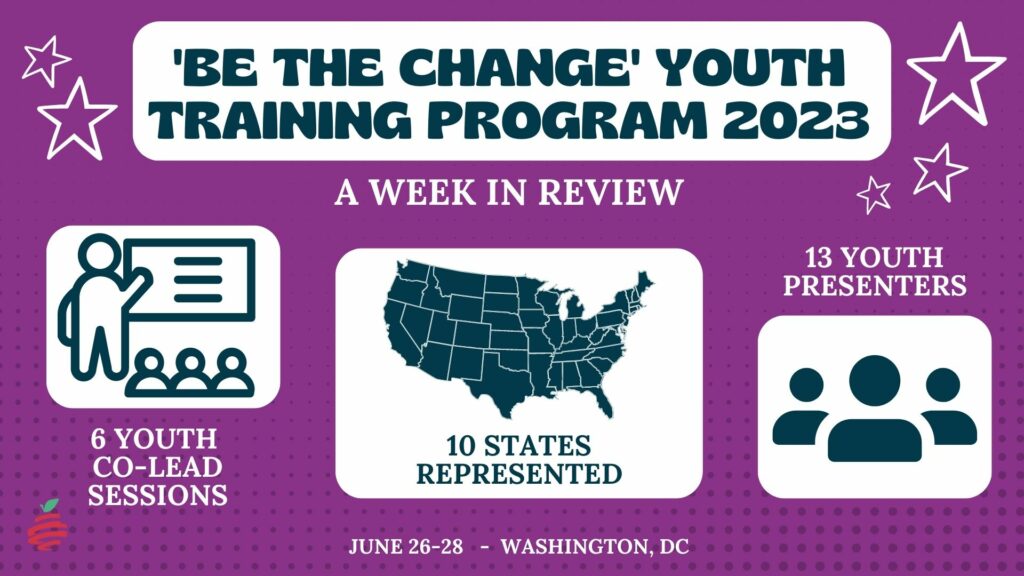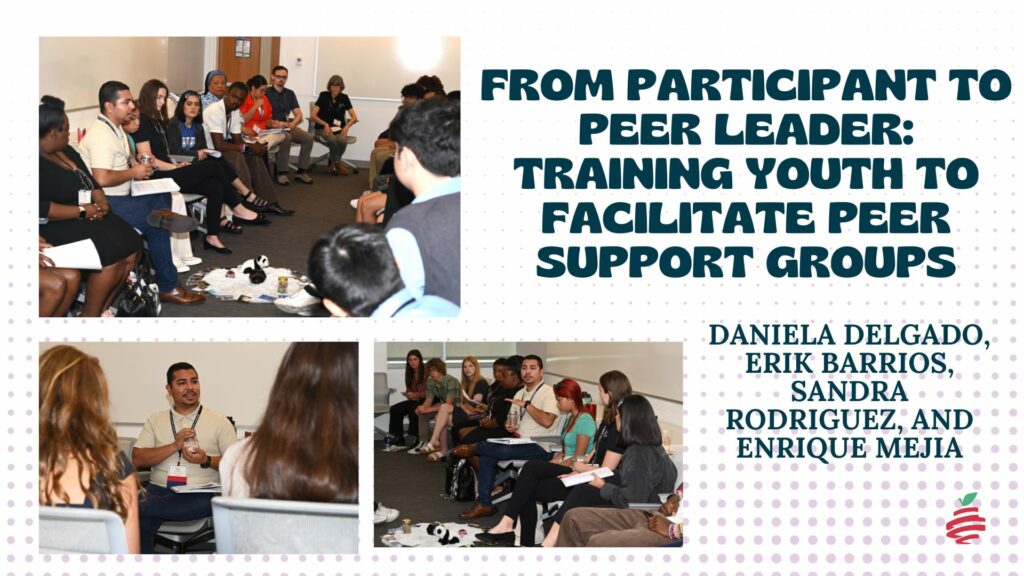 "From Participant to Peer Leader: Training Youth to Facilitate Peer Support Groups" by Daniela Delgado, Erik Barrios, Sandra Rodriguez, and Enrique Mejia
A growing body of evidence confirms that programs for youth are more impactful when young people play authentic and leading roles in their design and delivery. Drawing on the testimonies of Youth Peer Leaders, the workshop will explore how Identity's programs are empowering youth to build on their experiences as program participants to play a healing role for their peers and community. For example, at a series of Newcomer Youth Leadership Summits for recently arrived teens from Central America, Youth Peer Leaders are planning and facilitating group discussions about the immigration experience and challenges of settling in a new country. These Summits are providing immigrant teens the opportunity to open up about difficult topics and validate each other's experiences. And, in response to the youth mental health crisis, Identity's non-clinical Encuentros program is training past participants to co-facilitate evidence-based emotional support groups where they can share resources and strategies for managing difficult emotions and coping with mental health challenges.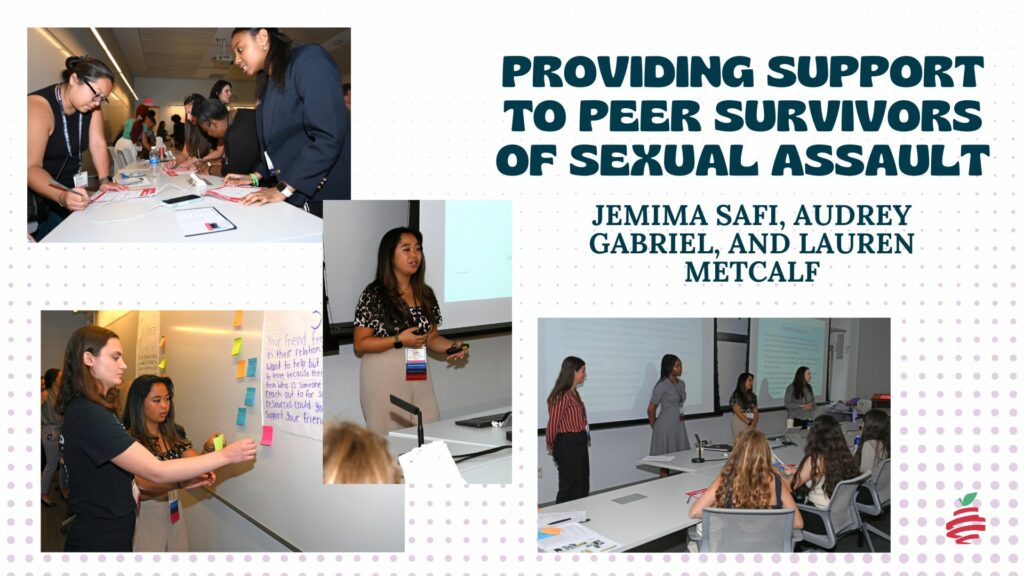 "Providing Support to Peer Survivors of Sexual Assault" by Jemima Safi, Audrey Gabriel, and Lauren Metcalf
This workshop, led by members of our Youth Advisory Council, seeks to educate young adults on the prevalence of sexual assault and violence within their community and empower young leaders to take action in providing peer support and advocating for survivors of sexual assault. Through open discussion of the context and history of sexual assault within a school setting, as well as the stigmas surrounding sexual assault that pose barriers for survivors to accessing the care and resources that they need and deserve, this presentation aims to inform young people of this continued issue – especially in school settings. Looking to the University of Massachusetts – Amherst's Survivors Bill of Rights as a case study of advocacy and measures intended to empower, protect, and support survivors of sexual assault, we will learn ways to engage in advocacy against sexual assault using survivor-centric language and actions. Through this presentation, youth will be educated on the importance of acknowledging sexual assault as a prevalent issue in their communities and how to support peers who have experienced sexual assault. Youth will walk away with examples of advocacy efforts and a broadened skill set that they can continue to apply in their own advocacy.
"Pizza Protection Parties: How to Throw a Peer-led Community Sex Education Session" by Karen Torres and Cassandra Smith
The purpose of this workshop is to teach youth leaders how to plan, organize, and lead a sexuality education session for other youth in their community. This train-the-trainer workshop will be youth-led and will teach young people how to throw a RHAP-style sex ed session we call Pizza Protection Parties. All the content in the Pizza Protection Parties (PPPs) and in this workshop are developed from Advocates for Youth 3Rs curriculum, AMAZE, and El Rio's Reproductive Health Access Project. The workshop will begin by going over the role of peer educators in sexual health and the evidence behind this practice. We will then review the characteristics of a youth leader/peer educator and how to partner with youth-serving organizations or schools to throw a PPP. The presenters will then take the participants through a mock-PPP that covers setting group agreements, Reproduction Basics, Birth Control Basics, Correct and Consistent Condom usage, STIs/STDs, and Healthy Relationships/Consent. This mock-PPP will involve interactive components including group discussions on how to make conversations less awkward with youth, role-playing how to answer tough questions/knowing when they are not qualified to answer a question, de-escalation techniques, a condom relay race, and an on-the-wall birth control basics matching game to get participants out of their seats. All of the interactive components will simultaneously allow them to experience being a PPP participant while also teaching them how to lead these discussions and games in their own communities.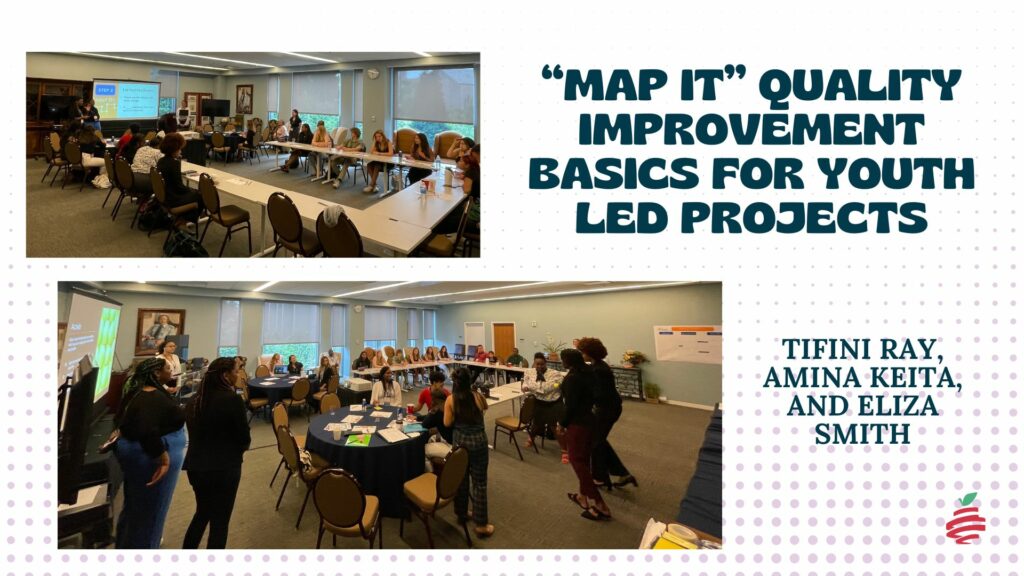 "MAP IT" Quality Improvement Basics for Youth Led Projects" by Tifini Ray, Amina Keita, and Eliza Smith
"MAP IT" is our catch phrase for making any problem or project a process. Every process includes actionable steps to achieve a desired outcome. Just like a map guides a user from point A to point B, MAP IT is a strategy to guide our youth leaders through a seemingly complicated set of circumstances. In healthcare, we call this strategy "quality improvement" – a compilation of methods and tools used to improve systems and processes. Quality Improvement (QI) sometimes feels like a healthcare buzzword but is very useful, especially for a team of people. In fact, most people use the basics every day without realizing it, such as finding the best route to school or work or figuring out how to get the most sleep each night. Our Youth Advisory Council (YAC), comprised of 30 high school students from the largest school district in Ohio, has used quality improvement methods to break down complex challenges and make meaningful changes in their school and communities. Methods YAC members from four local high schools were brought together in a group setting. Together, they were trained in QI fundamentals. They were split into design teams by school, and led through a series of activities where they learned basic QI methods (MAP IT!) while designing a specific project for their school. As a result, they have designed and implemented projects such as creating peer support groups, leading health activities such as decreasing the stigma of mental health or increasing knowledge and access of school-based resources and support services and are creating cultures of self-advocacy amongst peers. With short steps, the YAC has made large strides across four schools. Additionally, members report feeling more confident in problem-solving complex issues and a sense of greater confidence to lead health initiatives in their schools. In this workshop, we will share our how our YAC uses MAP IT to carry out successful projects. We will provide basic QI strategies that help bring ideas to life and define how we measure success. Participants will gain hands on experience using QI to address real-world challenges. QI is for everyone, and this session will serve methods digestible for all, including youth leaders.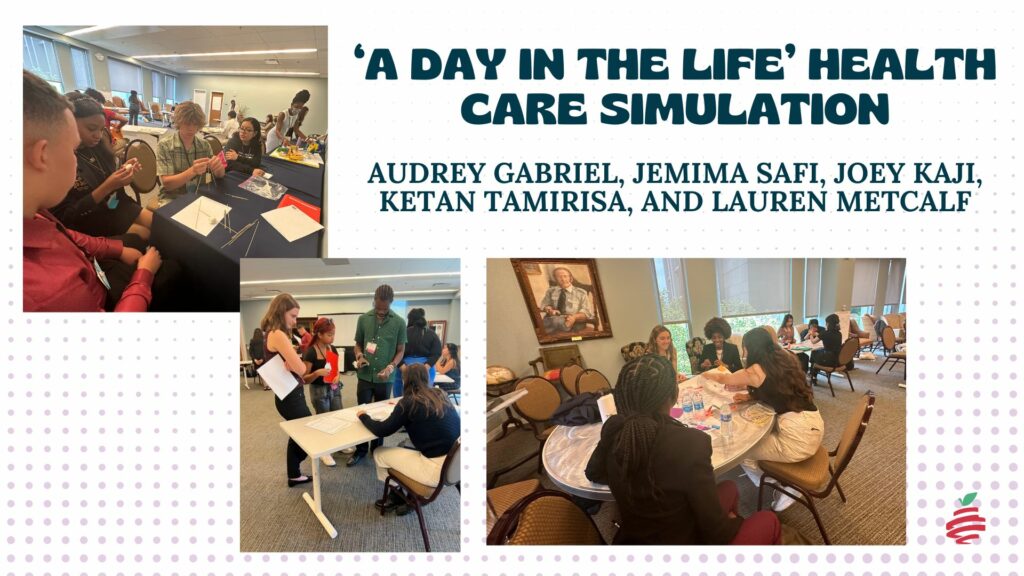 'A Day in the Life' Health Care Simulation by SBHA Youth Advisory Council
What is life without a school-based health center (SBHC)? Presenters educated youth about the components of the current health service systems available to people nationwide. Through role-play and interaction, young people better understood the value and benefits of SBHCs, as well as learn language they can use to advocate for peers to obtain the health services they need in a non-SBHC setting.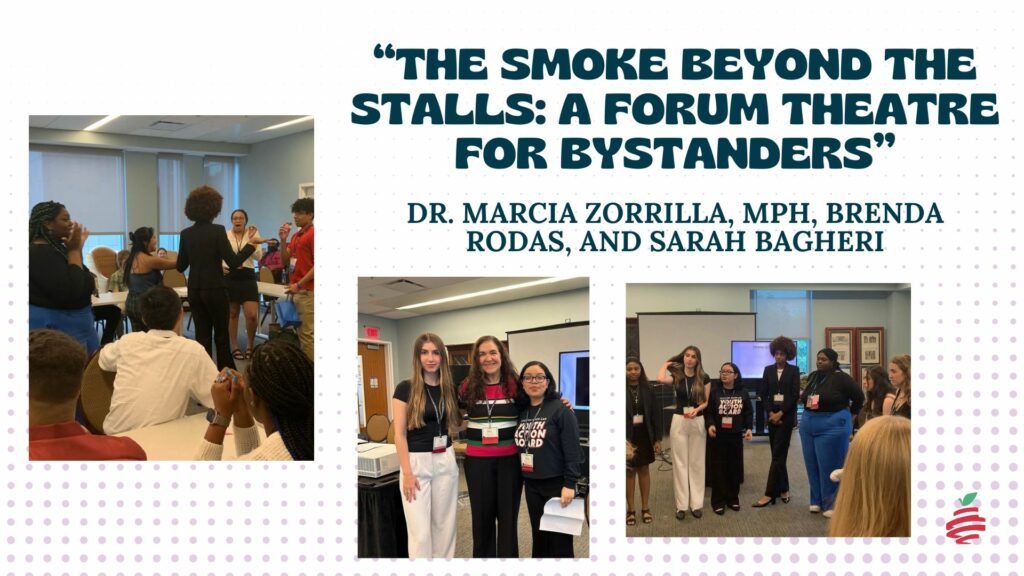 "The Smoke Beyond the Stalls: A Forum Theatre for Bystanders" by Marcia Zorrilla DrPH, MPH, Brenda Rodas, and Sarah Bagheri
What would you do (WWYD)? When you see your friends vaping in the school bathroom, are you an upstander or bystander? As youth of the Stanford REACH Lab Youth Action Board (YAB), we saw how the vaping epidemic was affecting our peers and we wanted to do something about it! Using a video created by the YAB, the audience will see a skit on what vaping is like in the school bathrooms, the peer pressure that can arise from it, and the reactions to it. Next, in small groups, the audience will use Forum Theatre techniques and act out the skit based on the changes they want to see. Created by Augusto Boal, Forum Theatre is a participatory form of theatre that engages the audience in examining the oppressions seen and discussing the possibilities of "rehearsing" options to change the outcome of the theatre piece.